Stuart event Rentals was honored to be asked to participate in the recent ReBirth event at Ciel creative space in Berkeley, Ca. Billed as an industry-exclusive event to celebrate the post Covid opening of California, Stuart provided lounge furniture, a checkered dance floor, and many other items for the occasion.
Working with frequent collaborator Make it Markio events, Stuart decked out Studio 5 for an amazing fashion show and networking event. We featured our newest dining table, The Lannister combined with ghost chairs, and some of our latest China and glassware.
A classic checkered dance floor set the party mood, and our new reflective Obsidian Bar & Back Bar served up tasty treats and beverages.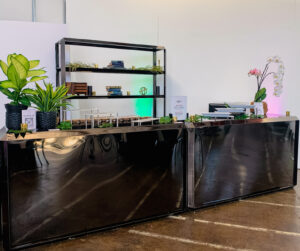 Our new Crawford furniture set a comfortable and intimate lounge area for guests to sit and enjoy the ambiance and festivities.
Guests were able to walk away with a sense of all the new items Stuart Event Rentals has to offer, and even some nice swag as well. Overall, Event Rental Specialist Cori and her assistant Geliah knocked it out of the park.