Your Wedding Day and Stuart Event Rental Services Make a Perfect Marriage
Congratulations!  Your big day is on the way. A day to celebrate with your dearest friends and family. This is a day when all of your dreams can come true, and Stuart Event Rentals is here to help turn those dreams into reality. Our Wedding Rentals service is second-to-none, with all the decorations and accoutrements to bring your vision to life.
So, go ahead and tell us about your dream wedding.  No matter the size, style or venue, Stuart has the wedding supplies, products and equipment to indulge any wedding day theme or fantasy.
Golden Memory:  One recent summer, in near-freezing fog & 80 mph winds, we built a chapel and reception hall on two raw hilltops above Half Moon Bay, with bathrooms, lounges, bars, and a kitchen that served 200+ guests on our finest settings.  The icing on the cake: a Roman opera singer rejoiced!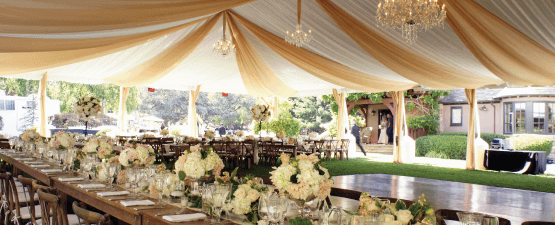 Planning & Logistics
Are you doing this on your own, or working with a planner?  You have many decisions to make, and we're happy to help with all your wedding rentals needed from start to finish.
Services: Designs, Planning, Permits, Transportation, Construction, Installation, Climate Control, Energy (we bring it) plus a whole lot more.
Let's Start Planning!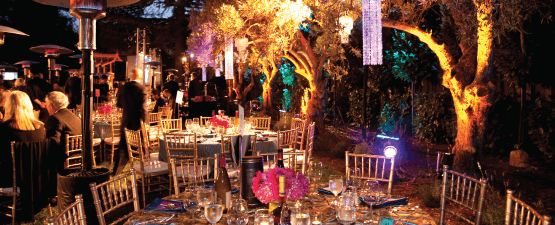 Décor. Necessities. Ambience.
Are you looking for inspiration, or do you know what you want? We have just about anything you could imagine, and we're good at fulfilling special requests.
Selection: From chapels to reception halls; from powder rooms to lounges to bars; from gilded columns to dance floors to tabletops to lights in the sky, and beyond your wildest imagination. Thousands of products, styles, and colors for you to choose.
Styles: formal, casual, traditional, modern, hip, elegant, rustic, ethnic, chic, intimate, and always grand!
Check Out Our Catalog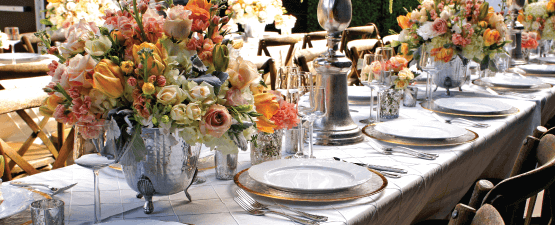 Happily Ever After
Meet one of our wedding specialists and let's see what we can do to make your dreams come true.
Schedule A Free Consultation
Every year in the Bay Area, over 1000 couples and their planners count on Stuart to provide the highest level of service, quality and execution for their special day. Just give us a call to schedule a free consultation so we can show you all the possibilities available for your wedding ceremony or reception.
Contact us today to discuss your needs
Our team is standing by and ready to help you create the most important event in the world at this moment —YOURS!